The office is abuzz getting ready for our Day of the Ninja festivities.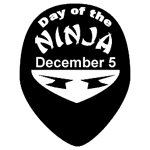 This blog will have a special look tomorrow (and a very serious piece about what we've learned from Ninja), the Zune Brothers are releasing a special episode, and the family will not be watching Dead Man's Chest in protest.
How will you be celebrating this fine day?
Technorati Tags: ninja day, day of the ninja, ask a ninja, zune brothers, pirates of the carribean, dead mans chest